Legal Sports Betting In The U.S.
There has been much discussion, and confusion, regarding the legality of online sports betting in the U.S. While there have been efforts by some policy makers to relax restrictions on internet-based gambling operations that provide sports wagering, others have vigorously resisted any suggestion that sports betting based in the U.S. should be allowed.
We will try to clarify the issue – what's legal, what's prohibited and where. LegalSportsBettingUS.com will also explore various offshore, online sports betting sites that offer a wide array of sports betting options, and are available to players in the U.S.
Is Online Sports Betting Legal in the U.S.?
Lawmakers in Congress and legislatures have been debating issues relating to gambling for decades. The advent of online gaming and the many options it created for enthusiasts made the work of policy makers more complicated. But in general, it is safe to assume that it is illegal, under federal law to engage in online sports wagering at an internet site based in the United States.
This does not mean that U.S. citizens cannot bet online on sporting events. There a number of sites based offshore that are reputable, reliable and legal, and that accept players from the U.S. These sites operate legally because they are sanctioned not by U.S. law, but by the laws of the nation in which they are based. Click here to read more about the legality of online wagering in the United States.
Alternatively, if you'd like to find out if will you get in trouble for betting online, we've got an article dedicated entirely to that topic as well.
Online Sports Betting Laws in the U.S. – Know Before You Bet
While individual states such as New Jersey have passed laws which, at some point, may one day allow U.S. residents to bet online on sporting events via a U.S.-based site, these state provisions are tied up in federal court, so Congressional measures still supersede any laws passed by state legislatures. Three federal statutes are specifically focused on sports betting, and rulings from the courts have been generally supportive of the constitutionality of the measures.
The Unlawful Internet Gambling Enforcement Act, passed in 2006, was specifically targeted at banks and other financial institutions that facilitated online gambling, including sports wagering. The measure was controversial from its inception because it was actually an amendment to an unrelated port security measure, and many members of Congress later said they voted on the bill without reading its provisions. The most interesting aspect of the measure is that it provides no restrictions on internet gambling, other than to prohibit U.S. banks from participating.
The Interstate Wire Act, enacted in the first few months of the Kennedy administration in 1961, was intended as a measure to fight organized crime, and was specifically written to apply to sports betting. Of course, this was long before the advent of the internet. As enacted, this statute also did not specifically outlaw any form of gambling, but prohibited the use of "wires", i.e. telephone or telegraph, to transmit funds to or from wagering entities, or information relating to gambling. In 2011, the U.S. 5th Circuit Court of Appeals ruled that, while the provisions of the law do not apply to online poker or casino-style games, the restrictions on sports wagering were valid and applicable to online betting.
The Professional And Amateur Sports Protection Act, passed in 1992, was another bill specifically aimed at sports gambling and organized crime. Under the act, all forms of wagering on professional or amateur sports involving athletes, other than horses, dogs or jai alai players, were essentially outlawed. PASPA, as it is known, is currently the subject of several lawsuits being closely watched by legislators nationwide. One suit, filed by the state of New Jersey, is expected to ultimately reach the Supreme Court. If the law is ultimately overturned, it could change the face of online sports betting in the U.S.
Legal Sports Betting States – State Laws Regarding Betting On Sports
As mentioned, New Jersey is one state where the legislature has acted to have the federal PASPA law overturned. Delaware, Montana, Oregon and Nevada each had provisions allowing limited the industry when online betting laws like PASPA were enacted, and thus were granted exemptions. There have been conflicting legal opinions as to how these state measures apply to online sports wagering, so the New Jersey lawsuit continues to command interest.
In general, online gaming laws on the state level have basic requirements regarding age (18 or 21), and the location of the players. No interstate online gambling is allowed under any state statute and is specifically prohibited on the federal level. As a result, the vast majority of U.S. citizens seeking to bet on the Net seek legal offshore-based sports betting sites.
Facts About Legal Sports Betting In The U.S.A.
Online sports betting is one of the most popular forms of gambling in the world
More then 3 million U.S. residents bet on sports online every year, and this number continues to grow
Not one U.S. resident has ever been arrested for betting at any of the trusted online sports betting sites
U.S. Players can withdrawal their money from legal sports betting sites and get it within 3 days
Legal Sports Betting Sites Accepting Players from the U.S.
Among all of the online sites offering sports betting to U.S. players, a few are considered standouts, based on factors such as choice of sports, security and privacy of players, and account deposit and payout methods. We'll take a look at three of the best, legitimate online sportsbooks:
Bovada Sportsbook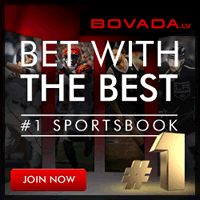 Biggest Sports Betting Site That Accepts U.S. Players
Bovada- The Bovada Sportsbook is considered by many as the premier online sports wagering site for U.S. players. Betting is available on virtually every professional and collegiate sporting event, and Bovada's real-time live betting format is as good as any in the industry. The site is easy to navigate, so if there's a game or a sport that piques your interest, you can be placing your bet in a matter of minutes after logging on.
With the advent of smart phones and tablets, savvy internet gamers are demanding more options and faster turnarounds, and Bovado does not disappoint. Its new "Mobile Betting" format allows players to deposit funds and place bets on the go, so you never miss the opportunity to get in on the action.
Bovada offers not only a wide array of sports to wager on, but a lot of ways to do it, as well. Bet the spread, bet the combined point total, bet the loser, do a ten-game parlay – if there's a way to place a bet, it's available at Bovada.
Signing up at Bovada is as simple as setting up any other type of online account, and takes only a few minutes. Accounts can be opened with as little as $20.00. Bovada frequently offers promotions that add to your account balance and enjoyment level, and the customer assistance and support system is first-rate. Bovada is an excellent choice for U.S. citizens looking to place a bet online on their favorite team or sport.
BetOnline Sportsbook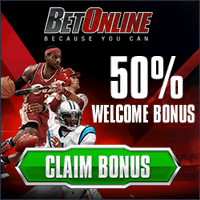 One Of The Fastest Growing Sports Betting Sites Online
From NASCAR to the Olympics, from rugby to darts, essentially anything that is "played" can be wagered on at BetOnline. Based in Panama, this site went online in 1999 and has amassed more than a million player accounts, many set up by sports wagering enthusiasts in the U.S. While the site does offer other gambling options, it is, at its heart, a sports gaming site. Thus, the information is detailed and well-researched, sometimes to the point of being overwhelming. But not to worry, because live customer support is available 24/7, by phone or online.
Most sites have bonus plans of one sort or another, but BetOnline pays a 75% bonus on virtually every deposit, and accounts can be opened with as little as $50.00. Frequent promotions on various games are also available, and no site offers as wide an array of betting options. Soccer fans can rejoice knowing that their "over" bets are always reimbursed when games end 0-0. Straight bets, parlays and robins, If bets and teasers and pleasers – all are available at BetOnline. Live betting is also popular and convenient for players on the go, because it is accessible from your smart phone or tablet, as well as your PC or Mac.
SportsBetting.ag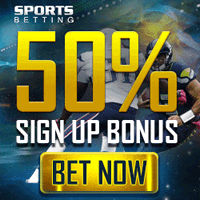 One Of The Top Legal NFL Betting Sites
SportsBetting.ag - If you're looking for a fun and action-packed site full of flash and panache, look no further than Sportsbetting.ag. This awesome site has it all: killer betting lines and odds types, easy deposit and payout methods, phenomenal bonus options, and fantastic features like mobile betting and live/in-game play. Most importantly, with its gaming license and certificate of excellence, SportsBetting is safe, legal, and legit.
Although the Unlawful Internet Gambling Enforcement Act (UIGEA) prevents online sportsbook from operating within the United States, Sporsbetting.ag is based outside of the country. It operates legally and legitimately within the confines of the law. Furthermore, there is no law that prevents American citizens from using Sportsbetting.ag. No US citizen has every gotten in any kind of legal trouble for using an online sportsbook. Sportsbetting.ag is a trusted site and home to over a million people who use it every day. Sign up today and see why Sportsbetting.ag is one of the world's best sports betting sites for US players.
5Dimes Sportsbook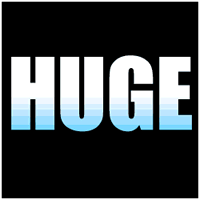 One Of The Oldest Online Sportsbooks That Accept U.S. Players
5Dimes - Now here's something you won't find at most online sports wagering sites – a "Reduced Juice" that saves bettors up to 50% per straight bet, making a -110 effectively a -105. This is just one example of one of the truly remarkable features of 5Dimes – the incredible amount of bonuses offered at virtually every turn. New account holders, for example, don't just get a bonus. They get a choice of four different bonus plans.
Besides the impressive bonuses, the site is renowned for its vast choice of games on which to wager. From handball to European Water Polo, anyone in the U.S. can find a sport that's interesting enough to merit attention and enthusiasm. Accounts require a minimum deposit of $50.00, but wager amounts can be as low as $.50. Live in-play bets are available at 5Dimes, and all the wagering options apply – straights, parlays, ifs and monsters.
Customer service? What can I say? Three separate live help phone numbers, staffed 24 hours per day, along with lightning-fast live online assistance and a separate new account management number for first-time visitors – all of these serve to make 5Dimes customer support on of the best in the industry.
Combine all these features with what is perhaps the easiest site to navigate of any we've experienced, and you can't help but see why 5Dimes comes so highly recommended.
Best Legal US Sports Betting Sites
RANK
LEGAL BETTING SITE
USA?
RATING
TRY IT
Legal U.S. Sports Betting Site Deposit Methods
Most sites will accept Visa, Mastercard or American Express as a method of setting up sports betting accounts. The only caveat might be that the U.S. bank that issued the card may block the transaction due to concern over compliance issues relating to UIGEA. Bovada and 5Dimes limit their credit card acceptance to Visa. Also, 5Dimes will not honor Visa accounts from players who live and/or bank in Washington state, Washington, DC, or Maryland, due to specific regulations affecting those areas.
Should credit card transactions be blocked, virtually all will accept bank wire transfers, and many will honor Western Union and Moneygram transactions.
How To Withdrawal Money From Sports Betting Sites If You Live In The USA
Since U.S. players cannot have funds transferred directly into a credit card account from a sports betting site, electronic bank wire transfer is the preferred method of payout, due to speed and accuracy. Some sites, such as Bovada, offer a means by which players can collect via cashier's check, but this can take weeks to receive.
Are You Ready To Place A Sports Bet Online?
It's clear that there is much to know about legal online sports betting in the U.S. Hopefully, this information has been helpful. One of the best tips we can offer is to rely on the customer service representatives at one of the quality sites we've discussed.
Besides being some of the safest sports betting sites online, they can answer all the specific questions that aren't covered in the Terms and Conditions and General Information sections of the sites.
In the meantime, you can play with confidence that you're enjoying your sports betting online in a safe, secure and legal fashion.
FAQ About Legal Sports Betting In The U.S.
Q: Are land-based sportsbooks legal?
A: They are only legal in a few states. The Professional and Amateur Sports Protection Act was passed in 1992. It was effective in banning land-based sportsbooks in 46 states. Four states were exempt from PASPA (Delaware, Montana, Nevada, and Oregon). Currently, the only states that have land-based sportsbooks are Nevada and Delaware.
Q: Why choose an online sportsbook over a land-based sportsbook?
A: Most people don't live in or near a state with a land-based sportsbook. Even if you do live in Nevada or Delaware, there are many reasons to choose an online sportsbook. They are more convenient, no matter how you look at it. They also offer better incentives to join, such as bonuses and promotions.
Q: How do I know if an online sportsbook is legal?
A: If you live in Nevada, you are legally allowed to use a Nevada-based sportsbook. Same goes for Delaware. All other states, in order to comply with the law, you must use a sports betting site that's based outside the United States. Most federal gaming laws do not apply to offshore sites, and anyone can use them as long as they are old enough.
Q: Do states regulate online sportsbooks?
A: Only a few states do. The Professional and Amateur Sports Protection Act (PASPA) allows only a few states to regulate their own sportsbooks. Currently, Nevada and Delaware are the only states that do. However, most legal online sportsbooks are open to residents of all 50 states.
Q: Are there any legal sportsbooks in my state?
A: Unless you live in Nevada or Delaware, there are not any legal sportsbooks located in your state. Again, and this is very important, you are legally allowed to use online sportsbooks that are located outside the United States. These sites are not bound to US law, and there is no law to prevent a US citizen from using an overseas sportsbook.
Q: What is RAWA?
A: This acronym stands for the Restoration of America's Wire Act. It is an attempt to update 1961's Wire Act to include online betting. The original Wire Act prevents money or betting-related information from being transmitted across state lines through a wire communication facility. Since the UIGEA already prevents online sportsbooks from operating in all but two states, the RAWA is unnecessary. It is unlikely that it will become law.
Q: Does PASPA have any effect on online sportsbooks?
A: Only in the sense that because sportsbooks are banned in all but two states, people must seek out the online options. The UIGEA is the law that prevents states from having online sportsbooks. So online sportsbooks are banned in the same states where land-based sportsbooks are banned. However, and this is very important, PASPA DOES NOT AFFECT sites that are based outside the US.
Q: How can online sportsbooks be legal with the UIGEA in place?
A: The Unlawful Internet Gambling Enforcement Act (UIGEA) is a US law that doesn't have any effect on sports betting sites that are based outside the US. Also, and just as important, is the fact that it is not against the law for Americans to use online sportsbooks based outside of the US.
Q: How old do I have to be to use an online sportsbook?
A: That all depends on the laws of your state. Most states set the betting age at 21. Other states set the age at 18. Some do not have any age laws at all. In these cases, the site(s) set the age at 18. It is important to know that if even though the site says you have to be 18, if your state sets a higher age limit, you must abide by it.
Q: Is my money safe?
A: Yes, your money will always be safe with any of safe, legal sportsbook for US players. Once you deposit money into your account, it is no longer considered cash, but rather is considered credit, similar to how you trade in money for chips at a casino. Depositing money into an online sportsbook account is legal and safe.